Description
I would like to introduce an electrical MoMi LAMI rocker, which will give some relax to you and a comfortable resting and playing space to your baby.
MoMi LAMI rocker is the supreme comfort for the mum and for the baby. It will guarantee a lot of advantages and great fun to you:
Stable aluminum and steel structure,
Lightweight,
Removable upholstery, which can be hand-washed,
Bluetooth unit to play your favorite music from your phone,
Two rocker supply ways (power supply or batteries),
5-step rocking scope adjustment,
Rocking mimics the natural child's movements in the womb,
10 integrated melodies with volume control,
Adjustable rocking time – 8, 15 or 30 minutes,
Adjustable 5-point safety belts,
Attached canopy,
Mosquito net,
Two toys attached with Velcro,
Profiled seat,
Soft head pillow,
Velvet inner lining,
Non-slip pads,
Silent engine operation,
Remote control,
Fast installation with no tools required,
Compact dimensions when folded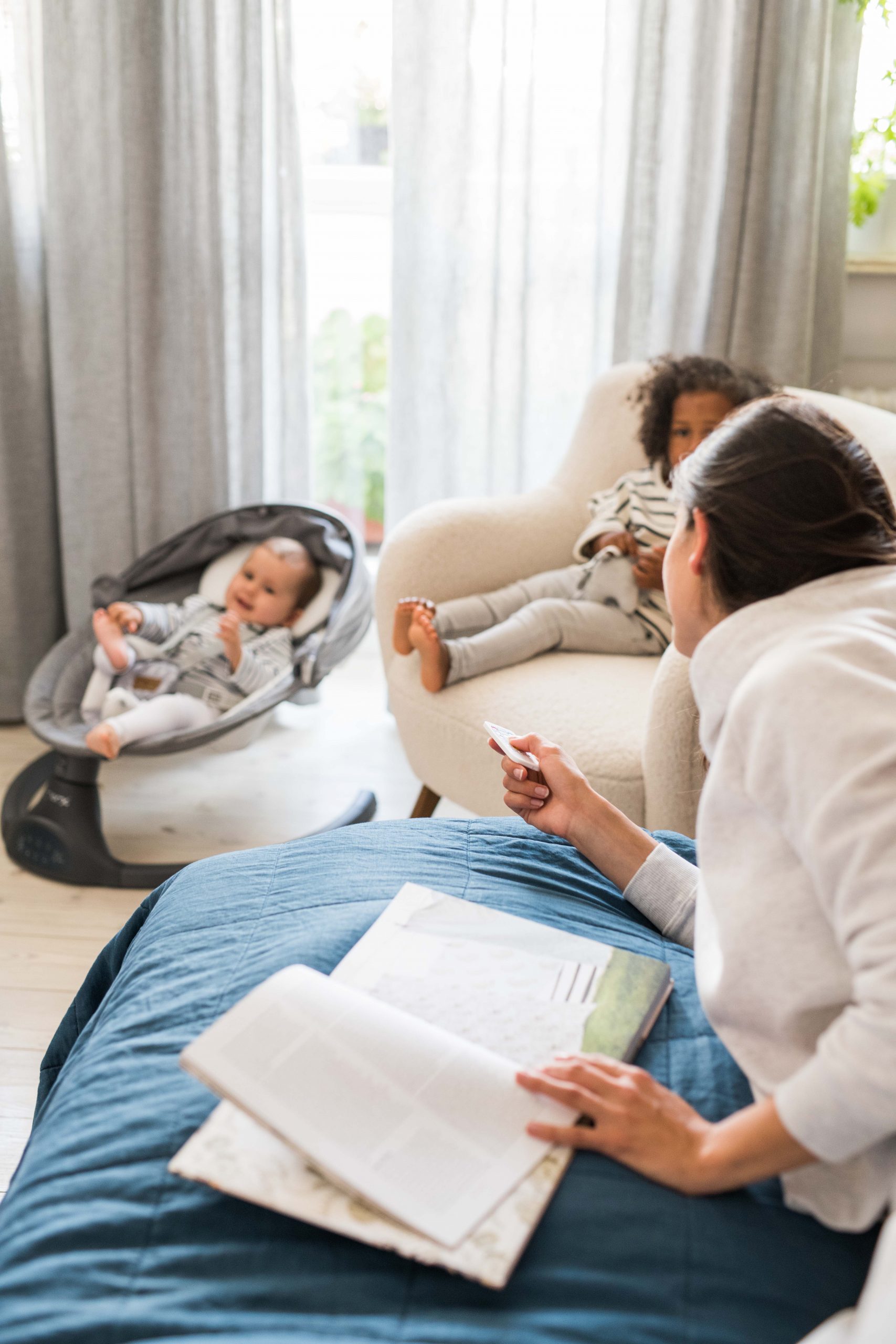 Why is MoMi LAMI rocker unique?

Just look at it. Beautiful, isn't it? A unique design, supreme workmanship quality and high-quality textiles are important, but not the only advantages of this rocker.
The MoMi LAMI rocker is electrically driven. You can operate it with batteries or connect to the mains. Thanks to it, it will rock your baby on its own.
Depending on your child's preferences, you may choose one of 5 rocking speeds. You can also set the timer, which will switch the rocker off automatically after 8, 15 or 30 minutes.
MoMi LAMI is also a reclined seat. You can switch off rocking and get a stationary seat for the baby.
Its silent engine ensures comfortable use and does not drown out the melodies.
Side rocking mimics the movements in the womb, thus soothing the baby, calming it down and ensuring the sense of safety.
MoMi LAMI will entertain your baby with music. You can use 10 integrated melodies or, thanks to the Bluetooth unit, play your own music from your phone.
MoMi priorities are your baby's safety and comfort. The MoMi LAMI rocker has 5-point safety belts and is lined with a soft, velvety textile. What is more, it has a soft pillow to protect the head.
The upholstery can be easily removed and washed, which makes it highly practical.
Thanks to the sunshade and mosquito net, which come with the rocker, MoMi LAMI can be used outdoors, in your garden or on the terrace as well.
And the best comes last! The MoMi LAMI rocker can be controlled with a remote control! This means that you can change the melody volume or rocking pace remotely, sitting on the sofa.

The MoMi LAMI rocker is fantastic! It is spacious and safe for the baby and comfortable for the mum. When your baby enjoys the rocker, you have some time to drink coffee and you can change the settings without leaving the armchair. Just take the remote control and that is it!