Description
MoMi LAMMIS is a unique 4-in-1 mat!
You must have been attracted by its wonderful, fairy-tale pattern. Apart from its modern appeal, it also has many practical features:
4-in-1 function – the mat, the playpen, the ball pool, the photo mat
A thick thermal insulation layer
4 hanging toys
20 balls in soft colours
It conforms to the European safety requirements standard for toys EN 71.
The perfect set for the first gift!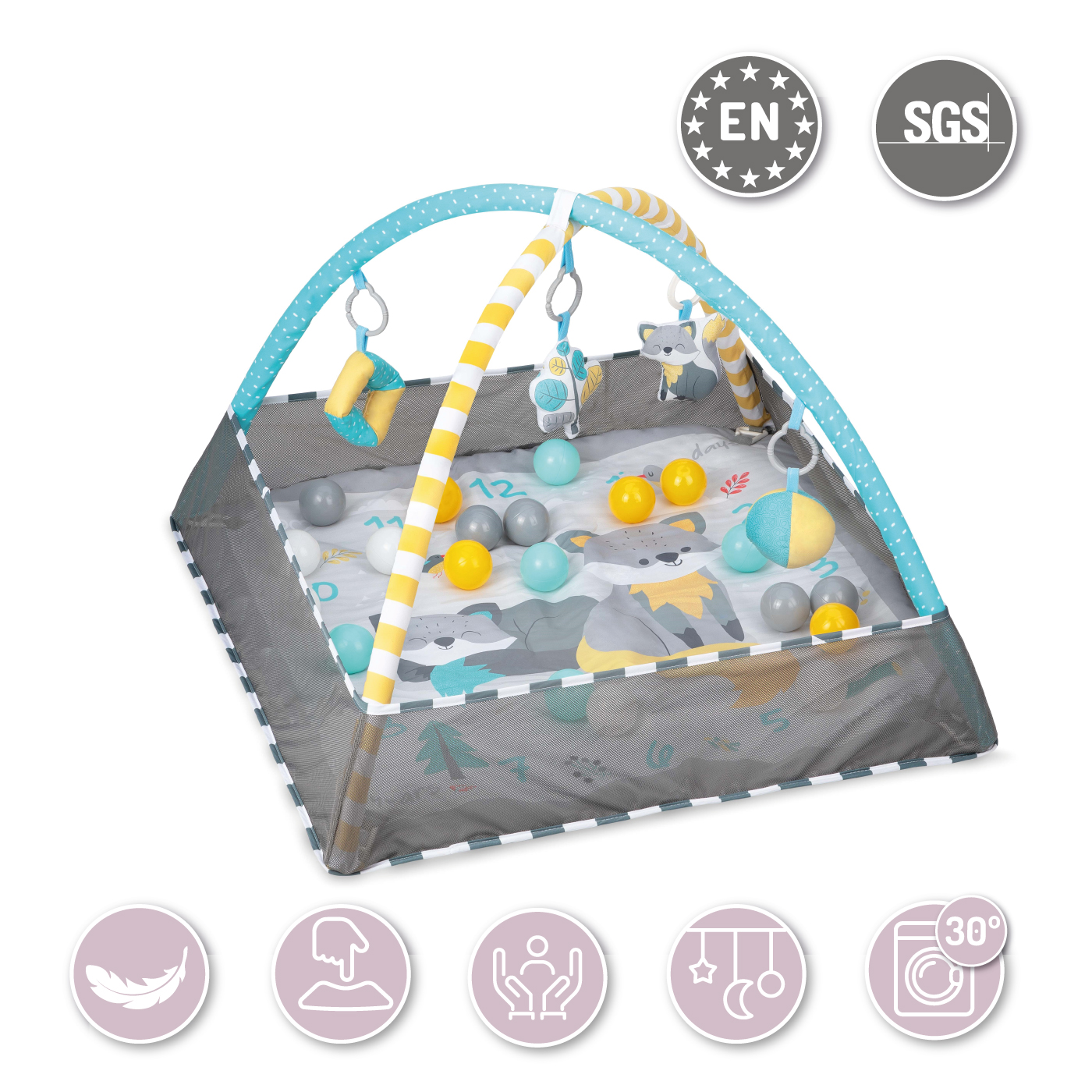 The educational mat is a safe playing space. MoMi LAMMIS is an attractive playground for a baby. It has a fairy-tale pattern and 4 diverse, removable toys. The mat is fenced with a mesh barrier to improve the baby's safety and allow you to leave the crawling baby alone for a while without worrying that they are going to explore the flat.
The educational mat supports visual coordination, as the colourful toys hung on the bows of the MoMi LAMMIS mat attract the eyes of your curious baby, promoting their development. The soft colours help the child focus on the selected piece. The MoMi LAMMIS has 4 different toys.
The educational mat supports the development of fine and gross motor skills – This means that the mat toys should be spaced as far as possible to encourage the child to reach, grasp and move. The toys of the MoMi LAMMIS mat are hung on each side, encouraging the baby to move. They are also diverse, to make them try out some new stimuli after playing with one toy for a while. Rustling and squeaking toys will encourage your child to use their hands.
Thanks to the ball pool function, the MoMi LAMMIS educational mat offers a lot of fun to your baby.
MoMi LAMMIS educational mat is a wonderful 4-in-1 solution! You don't just get an educational mat, but also a playpen, a ball pool and a photo mat!
The educational mat has a thick, thermal-insulation fabric, thanks to which your baby will not only be comfortable but also warm! Different toys will help you develop their skills and stimulate your senses.
The playpen will offer some relax opportunity to you. The mesh barrier will ensure a safe enclosure and will prevent the baby from leaving the mat.
The ball pool will offer a lot of fun to the baby. It will make the mat attractive also for an older child. The kit comes with 20 balls in soft colors.
Thanks to the photo mat, you can capture your baby's development on a regular basis. The photos taken on this mat will help you notice how fast they grow.
MoMi LAMMIS is a wonderful gift for every baby!